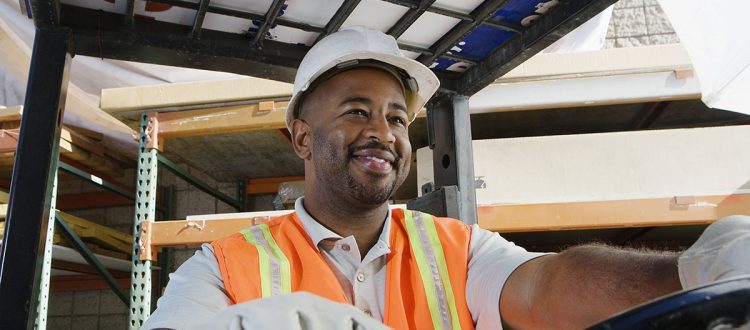 How to Become a Forklift Driver?
Forklift Drivers are in Demand
Through 2022, the transportation industry is expected to continue growing, leading to a demand for heavy machine operators. This includes that of forklift operators. A forklift driver is always in demand within the manufacturing, logistics and construction industries. Be it warehouses, factories, yards or construction sites, forklift drivers to be can find themselves employment in a variety of environments. The work generally entails long hours under tiring conditions, however it suits individuals who are keen on operating machinery and who do not mind shift work.
The Importance of Forklift Training and Certification
While forklift operation is not considered to be inherently risky, however when in the hands of an untrained individual, a forklift can be hazardous. Resulting accidents can cause serious injuries as well as property damage. In fact, according to the Ministry of Manpower, forklift related accidents make up a sizable portion of all workplace accidents in the past decade. These accidents can be avoided through the practicing of basic safety processes. As such, interested individuals will first need to possess the relevant operating and safety certifications before they can operate a forklift for commercial purposes.
---
Requirements to Attend the Forklift Certification Course
The following are entry requirements that individuals should possess before applying for the WSQ Operate Forklift course.
Be at least 18 years of age
Singaporeans, permeant residents or holders of valid employment pass / work permit
Be physically and mentally fit for the training, without any handicaps
WSQ Operate Forklift Certification Course Objective
The course objective of the WSQ Operate Forklift is to train individuals in the safety aspects and correct methods in operating forklift productively.
WSQ Operate Forklift Certification Course Content
The following is the course content of the WSQ Operate Forklift
Prepare to carry out forklift operations
Inspect forklift
Carry out forklift operations
Reinstate and handover forklift
WSQ Operate Forklift Certification Course Details
The following operation topics will be covered in both theoretical and practical lessons during the course.
Operating instructions, safety precautions and warnings for the operation of a forklift.
Forklift controls and instrumentation, including where the different tools are located and how they function.
Engine operation
Steering, manoeuvring, braking.
Operating with reduced visibility due to loading
Forklift capacity
Forklift stability
Relevant forklift inspection and maintenance that is required
Refuelling or recharging of batteries
In addition, workplace safety related topics that will also be covered include:
Surface conditions where safe operation of the forklift can be carried out
Safe composition of loads that can be carried and their effect on stability
Load stacking, unstacking and manipulation
Operating forklifts in pedestrian heavy areas
Operating forklifts in narrow aisles or restricted space
Restricted visibility when on slopes or ramps
Closed off environments with insufficient ventilation
---
Forklift Test Components
Forklift certification assessment components are carried out according to the legislated technical skills and competency requirements for WSQ Operate Forklift. These include the following steps:
Planning, inspection and other pre-operational checks
Correct understanding and usage of both controls and gauges
Steering forward and reverse for straight paths
Steering forward and reverse around corners
Driving forward and reverse in a figure of eight
Picking up and lowering down empty pallets
Picking up and lowering down loaded pallets
Stacking or removing cargo in a safe and timely manner
Forklift Load Assessments
All forklift drivers must be competent in carrying out load assessments. Before operation, drivers should be aware of the manufacturer's load chart. This is particularly important where operators have additional attachments. The total weight of the load and attachment must not exceed the lifting capacity of the forklift. Where possible, all loads should be weighed beforehand, thus leading to a reduced possibility of overloading the forklift.
Operators should make a concerted effort to have loads centred in order to maximise stability. Where this is not possible due to an object's bulky frame, extra caution is to be exercised, with all other personnel kept well clear from the operating radius of the forklift. Additionally, the centre of the gravity of the load should be accounted for and centred, thus allowing for stable operation of the forklift. Understanding how the centre of gravity impacts operations will also inform the driver of the safe heights in which loads can be lifted to.
It is also important that at no point should the operator attempt to lift heavier than advice loads by adding counter weights to the back of the forklift. Such an attempt may cause damage to the forklift's components.
Fourthly, operators should not attempt to balance unstable loads such as multiple crates. In such situations, singular lifting and transporting of the crates is advised using multiple trips.
Common Safe Practices
The following safety practices should be strictly followed both during the assessment and in daily operations:
Tilt loads backwards and raise above surface levels when on slopes
Stay within the stated speed limit
Sound the horn at any blind spots or crossings
Be wary of overhead structures such as pipes or beams
Travel in reverse if your front view is obstructed by a load
Do not adjust the height of the forks while the forklift is moving
Avoid making sudden sharp turns
Avoid braking suddenly, especially when forklift is loaded
Pull the parking brake, lower the forks and neutralise controls before leaving the forklift
Apprenticeship Periods
Once you have successfully passed the associated certifications for forklift operation, you will likely be given a position under the watch of a supervisor or experienced employee. Until they are confident in your ability to safely operate a forklift on your own, you should expect to be under their guidance. Typically, this period ranges between 2 weeks to a month, depending on your performance. During this time, you may be required to attend additional short courses that cover workplace safety.
Operate Forklift Refresher Courses
It should also be noted that all qualified forklift drivers are required to refresh their safety knowledge and maintain safe driving etiquette every 3 years. This is specified by the Singapore Standard SS 573:2012. The course reinforces safe driving habits and the adherence of all safety guidelines when operating a forklift.
---
Attaining Certification from THT Academy
THT Academy Pte Ltd (formerly known as Tat Hong Training Services Pte Ltd) has provided heavy machinery operation training to businesses since 1999. We offer WSQ Operate Forklift (formerly known as forklift driver training)  and Operate Forklift Refresher courses that educate and train the workforce on safe operational practices of forklifts. We strongly support lifelong learning and re-training of individuals to help them enhance their employability. Visit our website to find out more about WSQ Operate Forklift and Operate Forklift Refresher courses.