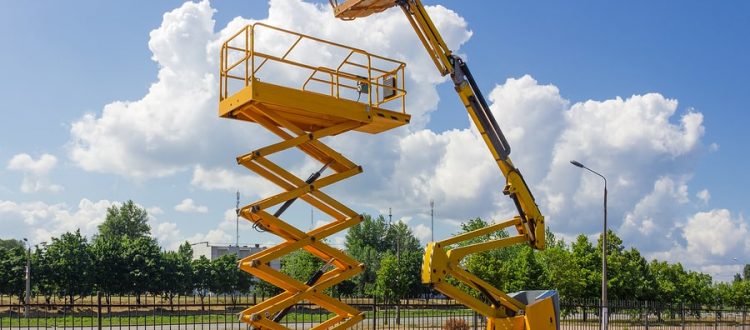 What is a Boom Lift Used For?
Boom lifts are used by individual personnel, contractors and companies to reach high places for various tasks. These tasks vary depending on the intended usage; for example, electricians may use it cable repair while painters use it to reach the exterior of a multi-storey building.
In this article we will cover:
What is a boom lift?
The history of the boom lift
Types of Boom Lifts
Boom Lift Operation
Safety When Using Boom Lifts
Boom Lift Operator Certification Course
A boom lift, also known as a cherry picker, is a type of Aerial Work Platform (AWP) or Elevated Work Platform (EWP). It enables workers to reach high areas safely and to carry out their tasks.
Depending on the nature of the job, it can be modified with special equipment such as carrying frames. Furthermore, boom lifts are user friendly, being designed to be operated by a single individual.
The basic boom lift consists of several components, namely:
A platform for the worker to safely operate within when lifted to height
A long-jointed crane which is powered by a hydraulic lift system
A ground base to stabilise the entire operation
Common uses of boom lifts include:
Lifting of electricians to cables which are mounted on high poles
Enabling cleaners or painters to reach the exteriors of multi-storey buildings
Empowering fire fighters to have the required elevated angles to fight fires
Letting landscaping contractors reach a tree's branches for pruning
Giving film crews the means of steadily filming a scene from an elevated angle
The History of the Boom Lift
Boom lifts were invented in Canada during the 1990s. Their primarily purpose was to give cherry pickers a safer and more efficient means of fruit plucking during the harvest season. Prior to its invention, cherry pickers had to rely on ladders to reach fruits that hung from tall trees in orchards.
The limitations of using a ladder were its lack of stability on uneven terrain and the difficulty balancing on it when the worker was carrying heavy baskets. Boom lifts helped to overcome these challenges as it provided a stable working environment and a supporting platform.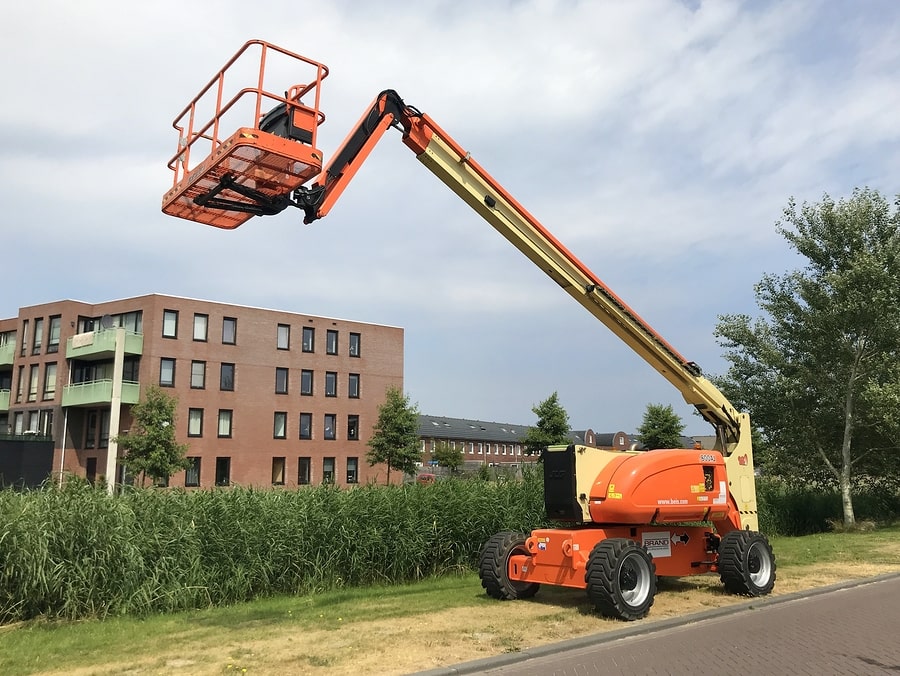 Given the range of potential users, variations of the standard boom lift can be found. This includes mounting boom lifts on the back vehicles, telescopic and articulating boom lifts.
Telescopic boom lifts, also known as straight mast boom lifts, feature a platform attached to a singular unbending hydraulic based arm. The big benefit provided by telescopic boom lifts lies in their stability and strength. They are typically favoured in work situations where the expected range of movement is limited and where heavier weights need to be accommodated. An additional advantage that it holds above
In contrast, articulating boom lifts introduced increased flexibility in the range of movement. This is achieved through the installation of sections that can be "bent" or "angled". While some stability is sacrificed, this approach allows for the arm to bypass obstacles to hard-to-reach areas and to turn in a tight radius. Small spaces that require its usage include tree orchards and construction sites.
Boom lift operators must be certified prior to any operation due to the associated risks. In fact, serious injuries or death may result from incorrect operation. The following steps must be adhered to:
Inspecting the boom lift before use. You should check all hydraulic hoses and fittings for leaks as well as tires' air pressure.
Do a test operation with no person on the platform. Instead, operate the boom lift from the control panel on the ground. Once this has been checked, you should switch to active input from the platform.
Strap on all safety equipment.
Check your surroundings for potential hazards.
When working in tight areas, ensure to retract the arms in the reverse order in which you first extended them. This is a safe method for extracting yourself from the area.
Once the operation is completed, lower the boom lift to its locked position before lowering the platform. Upon exiting the platform, you may shut down the boom lift while on the ground.
Safety When Using Boom Lifts
An active approach towards safety should be taken when operating a boom lift. The following list is non-exhaustive but serves as a checklist to remind workers of precautions to be taken:
Always have your safety harness properly fitted to you. When on the platform, clip the safety harness to the attachment.
Avoid wearing any loose clothing that may get caught
When inspecting the surrounding area, look for loose earth or obstacles. Common obstacles for boom lift operations include powerlines and overhead hazards.
Instead of extending yourself beyond the platform, position the boom lift as close to the target area as possible.
Constantly check your surroundings while operating at height.
Do not jump off the platform even when it is close to the ground
Strictly follow capacity limits in accordance with the manufacturer's specifications
If the operation is to be done outdoors, avoid doing so under poor weather conditions. This includes rainy, windy and misty conditions.
Do not sit on the railing.
Keep passer-by clear from the operating area.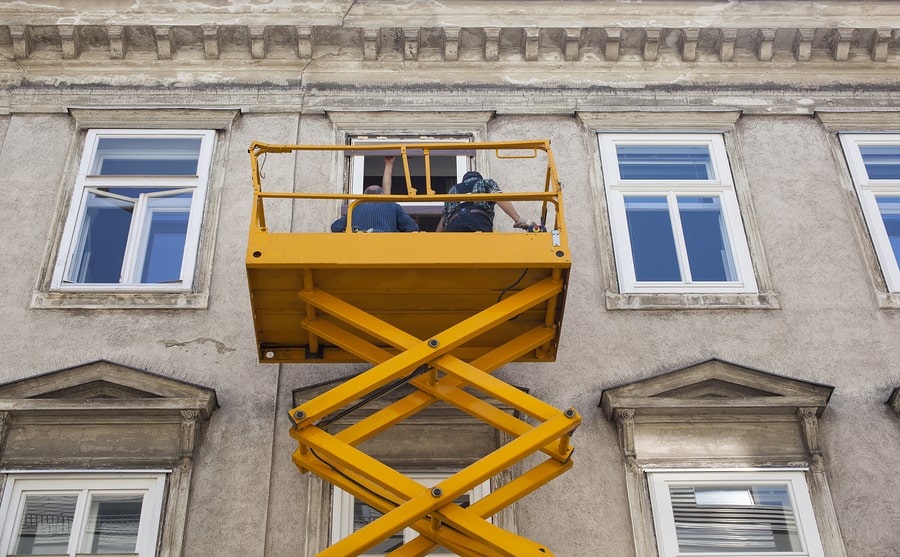 Sign Up for The Boom Lift Operation At THT Academy
The THT Academy (formerly known as Tat Hong Training Services Pte Ltd) offers a WSQ Boom Lift operator course. Held over the duration of a day, consisting of 6 hours of theory, 2 hours of practical training and a 1-hour assessment. By the end of the course, learners should be competently trained with the knowledge and application skills in carrying out boom lift operations that meet WSH legislative requirements.
THT Academy Pte Ltd has provided heavy machinery operation training to businesses since 1999. We strongly support lifelong learning and re-training of individuals to help them enhance their employability.
Get your boom lift operator certification with THT Academy. Learners will be eligible to clock hours for the BCA Multi-Skilling Scheme. To find out more about Multi-Skilling:
https://tathongtrainingcentre.com/what-is-the-singapore-bca-multi-skilling-scheme/